Tina Gilbert
Mindfulness Tutor with the Mindfulness Association and member of British Association of Mindfulness Based Approaches (BAMBA)
Mindfulness Supervisor
Anatomy and Physiology Tutor with Yoga Scotland for 5 years
Sivananda Hatha Yoga Teacher
Childrens Yoga Teacher trained with Radiant Child and Yoga'd Up
Reiki Practitioner
Nurse Specialist Cancer Care & Chemotherapy
Tina is an experienced Mindfulness Meditation Trainer who has run many 8 week programs, led workshops and has had the privilege to teach with Rob Nairn (author of Diamond Mind). She has taught the program to the general population, university students, people living with cancer, involved in mindfulness research at Napier University and taught staff working for Scotland Against Mental Health (SAMH) and Glasgow Against Mental Health (GAMH). Tina is a lead tutor on the one year training in mindfulness and compassion for the Mindfulness Association and she teaches all over Scotland. She teaches teaching skills and teacher training retreat with the Mindfulness Association preparing others to teach and Tina has also presented mindfulness at an international conference for health care professionals in Poland in 2016 and now teaches internationally. Tina is a trained supervisor and supports other teachers offering mindfulness.

Tina is a member of the BAMBA and deepens her own practice through regular rereats and training with Rob Nairn, Tara Brach, Chris Germer, Krisitn Neff, Rich Hanson, Christina Feldman and John Peacock. She also attends CPD regularly.

Tina is an experienced Yoga teacher trained in the Sivananda Hatha Yoga tradition. She teaches beginners and general and specialises in classes for people with cancer, teaching yoga in West lothian. As the Anatomy and Physiology Tutor for Yoga Scotland for 5 years Tina traveled all over Scotland to run anatomy workshops for yoga students and attendees of yoga classes. Tina had the opportunity to represent Yoga Scotland and present at the OM Yoga Show in Glasgow in 2016.

In the last couple of years Tina has reviewed many book proposals for Hanspring Publishing and reviewed a book by Joanne Avieson, Yoga fascia Anatomy and Movement, the review can be found on Amazon and Hanspring Pulishing website.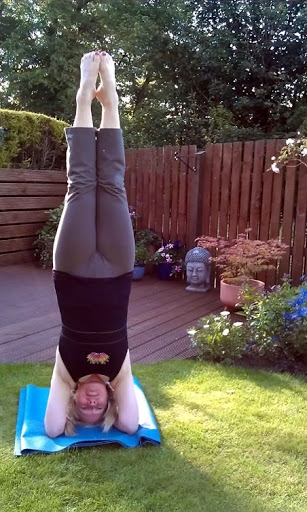 2
ok 3